Buying these titles
All titles (when available) may be purchased for use online and offline, either individually or as Class Sets (at a reduced price). Options include making the book available campus-wide (using the school's IP Range) allowing access on all devices when on campus, Class Sets controlled by a class-wide login (no need to register each individual student), to individual purchases, which allows the user to possess a book, rather than just online access for a certain period. There is also a complete LMS solution integrating the books such that scores are returned to teachers, administrators or even school boards.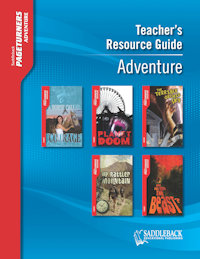 Some of the series has Study Guides for teachers. These guides have ideas for teaching, plus vocabulary, word-building and grammatical exercises, plus crosswords and more.

Containing 11 reproducible exercises to maximize vocabulary development and comprehension skills, these guides include pre- and post- reading activities, story synopses, key vocabulary, and answer keys. The guides are digital and only available as a PDF. Simply print the activities you need for each lesson.

These Guides are only available to teachers and schools who have purchased class sets. Please contact us about the guides.
About Us
We are teachers and educators based in Japan, the UK, Canada and the US. Our focus is on providing high quality content digitally. We preserve the strength of books (the layout, graphics and so on) while also adding in the elements that teachers want, and students need. Simultaneously, our solution enables the books to be used as full e-learning content and integrated to the wider LMS environment.